Depression Treatment At Our Drug Rehab
​
Our team of licensed professionals works closely with each individual to develop a personalized treatment plan that addresses their unique needs. We utilize evidence-based therapy approaches such as cognitive-behavioral therapy and dialectical behavior therapy to help individuals develop the skills needed to manage their depression and sustain long-term recovery.
Dual Diagnosis Introduction & Overview of Depression
​
The National Institute of Mental Health (NIMH) reported that approximately 8.4% of adults in the United States have experienced a depressive episode in their lifetime. This breaks down to 21 million adults struggling with depressive symptoms at least once in their lives. These statistics showed that depressive episodes were more common among women than men, and even more common among adults 18 to 25 years old.
Twenty-one million individuals struggle with depression. Depending on your symptoms, depression can have a significant and lasting impact on your life. We may feel fatigued, and hopeless, lose interest in enjoyable activities, and have thoughts about suicide. Depressive symptoms can make it hard to function at work and lead to strained relationships among family and friends.
The stigma associated with mental health concerns often includes depression. Comments made about depression or to individuals who are struggling can be invalidating of their experience and have a negative impact on them. Even without intending to be invalidating, such comments can have that impact.
A better approach would be to listen when someone speaks to you about their struggle and support them. Refrain from offering advice and suggestions unless you are asked for them. We often just want to feel heard and validated for our experiences. 
Mental health professionals use a tool called the Diagnostic and Statistical Manual of Mental Disorders to provide guidance with mental health concerns. This manual is broken down into a variety of categories, one of which is Depressive Disorders. You may initially think of depression for this category; however, there are several other common depressive disorders. 
Some of the Depressive Disorders included are:
Disruptive Mood Dysregulation Disorder

Major Depressive Disorder

Persistent Depressive Disorder (Dysthymia)

Premenstrual Dysphoric Disorder

Substance/Medication- Induced Depressive Disorder
What to Expect in a Depression Center in Ohio
​
As with many mental health concerns, there are a few levels of care you could utilize if you're struggling with depressive symptoms and depression. Someone hospitalized for having suicidal ideation may find themselves in a short-term hospital setting where they would receive treatment to help them get back to their usual state of mind. A common recommendation, at that point, would be a residential treatment program.
Residential treatment centers for depression in Ohio require that you stay at the treatment facility for the length of your treatment. Residential treatment programs include group and individual counseling and should educate you about your mental health concerns. When you leave, you should have a solid understanding of how to cope with the symptoms as well as red flags that you can watch out for that may indicate you need help. You will likely meet with a doctor to discuss potential medications and their benefits. If you do begin taking medication for depression, please know that it will take time to see the befits of the medication. If you have been taking them regularly, and feel good, then you should not stop them abruptly. Feeling good means that the medications are doing their job, and you should continue consulting with your doctor. 
Treatment centers for depression, in Ohio, will offer varying lengths to their residential treatment program and should tailor your stay to your specific needs. 
Besides hospitalization and residential treatment programs, outpatient treatment is another option for individuals struggling with depressive symptoms. Outpatient treatment would be ideal for someone who has completed a residential treatment program, or someone with mild to moderate depressive symptoms.
Outpatient treatment, in Ohio, will likely use individual counseling with a counselor or therapist and may include group sessions. Research has shown that effective treatment for depression is a combination of mental health treatment, such as individual counseling and psychotropic medications. 
The duration of outpatient treatment will depend on the individual and the treatment provider. Depression centers, in Ohio, offer a variety of services. Some individuals find that they benefit greatly from meeting with a counselor weekly or biweekly to check in about their struggles, address lingering shame and guilt, and receive support for other challenges in life. Others find that they are in an excellent place to end treatment once they gain the skills necessary to cope with their symptoms. This is something that you and your counselor will be discussing throughout your treatment to make sure you're both on the same page.
Detoxification
Medical drug & alcohol detoxification services in Ohio at Findlay Recovery.
Residential Inpatient
Our residential inpatient rehab program in Ohio is designed to meet your individual needs.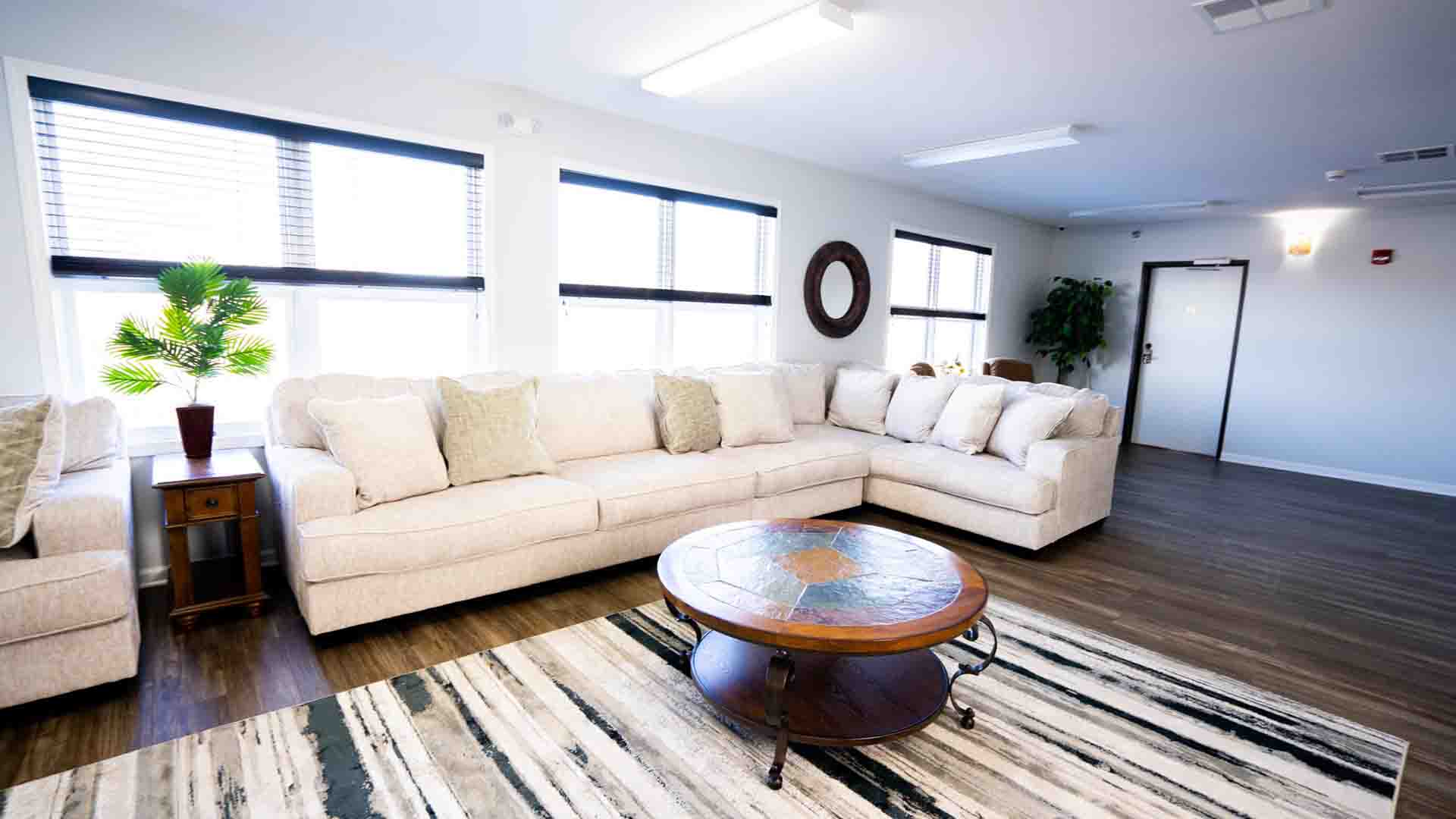 Tailor-Made Therapies
Each client will receive a tailor-made treatment plan that uses a variety of therapies.
Aftercare & Alumni
We help plan every step of your journey from aftercare to alumni events, stay connected.
When to Get Help for Depression
​
If you find yourself wondering if you should get help for your depressive symptoms, chances are that you would benefit from assistance. If you are already thinking about getting help, you can likely pinpoint areas in your life that you are struggling with. Getting help for mental health concerns is often viewed as a weakness when truthfully, it shows strength and courage. It's not easy to admit you need help and to accept help from a professional. 
More often than not, when we hear someone talking about depression, they are referring to Major Depressive Disorder. This disorder has a specific set of symptoms that need to be present for someone to receive a clinical diagnosis. The criteria include:
Experiencing five or more of the following symptoms during a two-week period, one of which needs to be a depressed mood or loss of interest

Feeling depressed most of the day, almost daily

Having a loss of interest or pleasure most of the day, almost daily

Weight loss or gain without making changes to your diet, having a change in your appetite

Not being able to sleep, or sleeping too much almost daily

Restlessness or feeling as though you're moving slower than usual

Fatigue and loss of energy

Feeling worthless or having excessive guilt

Decreased concentration or struggling with decision making

Frequent thoughts of death, suicidal ideation without a plan, having a suicide plan, or attempting suicide 

Your symptoms from above are having an impact on your social life, work, and other areas of importance to you.
Now, that can be a lot to take in and digest. If you found yourself relating to any of the criteria mentioned above, you should consider reaching out for help. You could contact a treatment center directly or your Primary Care Doctor for a referral. Depression is a treatable and manageable illness when you are receiving the appropriate treatment.
We would like to take a moment to talk about suicidal thoughts and ideation. If you have thoughts about suicide or death, you should reach out to a professional as soon as possible. It can be alarming, but know that counselors and therapists would be happy to listen to your thoughts and help support you through your challenges. 
If you begin to notice that your thoughts about death progress into developing a suicide plan, with realistic access to the means in your plan, you should contact emergency services. In this situation, it is imperative that you allow professionals to help you. You don't have to struggle with your suicidal thoughts alone, and there is no need to feel ashamed about having them. 
Findlay's Addiction Treatment Center for Depression in Ohio
​
Our depression treatment center, in Ohio, is less than two hours north of Columbus. In our newly renovated facility, you can be confident that you will feel comfortable throughout your time with us.
When you first come to meet us, we will take the time to learn about you and your struggles. We will work with you to determine the level of care you need and work out your treatment schedule.
We are an LGBTQ+ friendly environment and believe that everyone deserves to be treated with kindness and compassion. Our staff is qualified and experienced in treating both anxiety disorders and addiction.  
If you, or someone you know, are struggling with an addiction and a mental health concern, call the Findlay Recovery Center at (855) 605-2135. We have our staff available to answer any questions you may have about our program and treatment options.
GETTING HELP FOR ADDICTION HAS NEVER BEEN SO EASY